CUAHSI HIS Webinars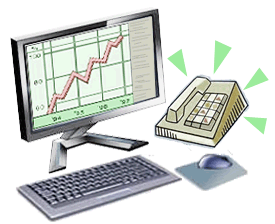 CUAHSI will present a series of webinars this Fall on various topics related to using the CUAHSI Hydrologic Information System (HIS).
The final 2 webinars in this searies showcase some of the additional tools and techniques that developers have created that are compatible with the CUAHSI-HIS system. While the CUAHSI-HIS team has developed many of the key tools and techniques for HIS, the team is only producing a few of the many possible pieces that could be incorporated into this system. This leaves open numerous opportunities for others, throughout the hydrologic community, to contribute to HIS, by developing additional tools and techniques. These two webinars feature members of the HIS Users Forum presenting their work. If you are a developer who would like to share your experience or contribution with the HIS User community, consider joining our HIS Users Forum or contacting Yoori Choi (ychoi@cuahsi.org) for more information.
Accessing the Water Data of the World Using HydroDesktop
October 18, 2011; 3:00 pm EDT — Daniel P. Ames and Jiri Kadlec, Idaho State University
The growing number of CUAHSI HIS HydroServers world-wide presents a unique opportunity to explore tools and techniques for efficient client-side data discovery and download. This webinar will show how to use the open source desktop GIS enabled HIS software tool, HydroDesktop. HydroDesktop is a desktop software application and search and discovery tool for exploring the distributed network of HIS servers, downloading specific data series, visualizing and summarizing data series and exporting these to formats needed for analysis by external software. HydroDesktop is based on the open source DotSpatial GIS developer toolkit (www.Dotspatial.org) which provides it with map-based data interaction and visualization, as well as an extensive plug-in interface that can be used by third party developers and researchers to easily extend the software using Microsoft .NET programming languages. Webinar participants will learn how to search for and download data, create graphs and maps, and export data to Excel for further analysis.
Data Visualization and Analysis Using the HydroDesktop HydroR Plug-in
October 25, 2011; 3:00 pm EDT — Jeff Horsburgh, Utah State University
The HydroR plug-in for HydroDesktop enables you to interface directly with the popular statistical computing environment R. In HydroR, you can link HydroDesktop to the R console and send both data and R commands from HydroDesktop to R. Any of the data that has been discovered and downloaded using the HydroDesktop search plug-in is available for analysis using the full set of data visualization and statistical analysis tools provided by R. The HydroR plug-in can send data directly from the HydroDesktop database to R, eliminating the time and effort required to manipulate and export data to formats that could be imported by R. R scripts developed in the HydroR script editor can be saved, exported, and imported for future analyses. This presentation will provide simple examples of how to use the HydroR plug-in to perform visualization and analysis of hydrologic time series data.
HydroDesktop Metadata Fetcher – Accessing services that are not registered at HIS Central
October 31, 2011; 3:00 pm EDT — Tim Whiteaker, University of Texas at Austin
HydroDesktop's Metadata Fetcher gives you the ability to search for and access data from WaterOneFlow services that are not registered at HIS Central. When you provide URLs for Web services of interest to the Metadata Fetcher, it queries the services to build its own local catalog describing the time series available from those services. You can then instruct HydroDesktop to search this local catalog instead of HIS Central, using the same search interface that HydroDesktop users are already familiar with. This solution is valuable to Web service developers who want to test their services without making them public, to individuals behind an organization firewall which prevents their organization's services from being registered at HIS Central, and to users who happen to be aware of useful services that for whatever reason have not been registered at HIS Central.
Component-based Modeling using the HydroModeler Plug-in
November 8, 2011; 3:00 pm EST — Jon Goodall, University of South Carolina
The HydroModeler plug-in for HydroDesktop enables component-based (e.g., plug-and-play) model development within the HydroDesktop environment. HydroModeler is built on the Open Modeling Inteface (OpenMI) Software Development Kit (SDK) and supports the use of other OpenMI-compliant models. We will begin by providing a brief overview of HydroModeler including key concepts from OpenMI that were used to construct HydroModeler. We will then present different tutorials to demonstrate how HydroModeler can be used for hydrologic science research and education. These examples make use of a growing catalog of model components available within HydroModeler as a free, open source community resource. Finally, HydroModeler's primary purpose is to serve as a framework where new modeling codes can be quickly developed, tested, and integrated into a larger modeling system, and so we will briefly describe how HydroModeler can be extended by creating new model components.
WOFpy – Publishing Your Data in WaterML Using Python
November 10, 2011; 2:00 pm EST — Tim Whiteaker, University of Texas at Austin and Ernest To, Espey Consultants, Inc.
WOFpy (WaterOneFlow in Python) is a cross-platform solution written in Python for publishing water observations time series data via Web services. The Web services follow the CUAHSI-HIS WaterOneFlow design and provide data in the standard WaterML format. WOFpy relies on Data Access Objects (DAOs) to provide the connection to datasets that are to be published online. The DAO hands data to WOFpy, and then WOFpy converts the data to WaterML. This means you can use WOFpy no matter what format your dataset is in, provided that you can write a DAO for your data. Example DAOs, including one for Observations Data Model databases in SQL Server, are included with WOFpy. In this webinar we will explain how WOFpy works with some live demos showing WOFpy Web services interacting with HIS software just like any other WaterOneFlow service. We'll also briefly cover a tutorial that explains how to write your own DAO. WOFpy is available at https://github.com/swtools/WOFpy.
PyHIS: A cross-platform toolkit to access HIS data
November 15, 2011; 3:00pm EST — Dharhas Pothina, Texas Water Development Board
PyHIS is an open source cross platform command line python package that was developed to allow access to WaterOneFlow services without requiring knowledge of how the underlying web services architecture works. PyHIS contains functions to search for monitoring sites using various criteria including; within a shapefile, bounding box and distance from given position. PyHIS uses 'lazy-loading' to automatically determine which WaterOneFlow requests are required for any particular query and retrieves data automatically when needed. This data is automatically cached in a local sqlite database. Retrieved data is available from the python command line in the form of 'pandas' objects. Pandas (pandas.sourceforge.net) is a powerful python data analysis toolkit that can be used for time series and statistical analysis and simple data visualization. Using PyHIS, complex scripts can be built to automatically cache data from services with short availability windows, conduct spatial analysis and as the backend for desktop and web based applications. PyHIS is being used by the Texas Water Development Board to retrieve elevation data for lakes across Texas, as the backend for the Water Data for Texas website and to conduct statewide spatial queries and analysis.